A high power DC - DC step up power supply module capable of supplying currents up to 5.5A. It has a wide input/output operating range of 10.5V to 32V input and 12V to 34V output. The module includes two large heat-sinks to help dissipate heat when used at its upper operating range. Output voltage is adjustable by a precision multi-turn potentiometer. Screw terminals provide convenient input and output connections.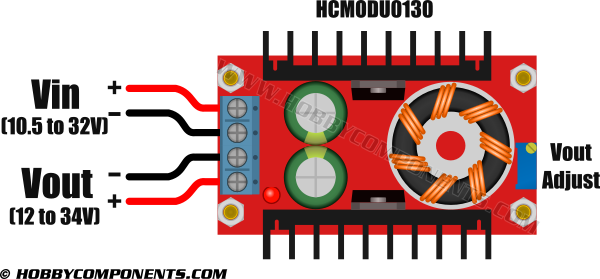 Specification:
Product code: HCMODU0130
Input Voltage: 10.5 to 32V
Output voltage: 12 to 34V
Max output current (continuous): 5.5A (see table)
Conversion efficiency (Vin=11.0V, Vout=12V Iload=2A): 94%
Dimensions (inc feet): 65mm x 47mm x 26mm
Hobby Components notes: Do not exceed maximum input. Do not adjust output voltage potentiometer beyond maximum output voltage. Output voltage must be set to a minimum of 1V above input voltage.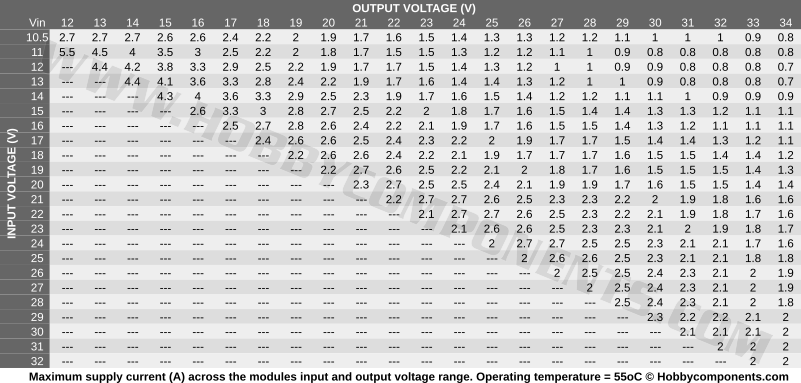 Disclaimer: Libraries, example code, and diagrams are provided as an additional free service by Hobby Components and are not sold as part of this product. We do not provide any guarantees or warranties as to their accuracy or fitness for purpose. Diagrams are for illustration purposes only and may not be to scale.

Copyright notice: Descriptions and diagrams on this page are copyright Hobby Components Ltd and may not be reproduced without permission.