High temperature stainless steel 3D printer heat break suitable for 1.75mm fulfillment. This heat break does not require Teflon/PTFE tubing insert which allows it to run at hotter temperatures.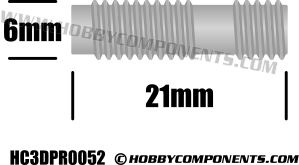 Libraries, example code, and diagrams are provided as an additional free service by Hobby Components and are not sold as part of this product. We do no provide any guarantees or warranties as to their accuracy or fitness for purpose.

Descriptions and diagrams on this page are copyright Hobby Components Ltd and may not be reproduced without permission.