The zero delay interface board is designed to allow anyone wanting to build their own arcade cabinet a way to interface arcade style joysticks and buttons to a PC or RaspberryPi. It will allow connection for up to one joystick and 16 buttons (12 users selectable and 4 mode preset). A wiring loom is provided for up to 12 switch contacts with 3.5mm spade connectors and a 5 way cable for joysticks with 5 pin JST type connectors.
The interface board will connect to your PC or Rasberry Pi via a supplied USB cable and will be detected as a generic game controller without requiring any drivers to be installed. It is fully configurable via Windows preferences or via the controller setup in EmulationStation/RetroPi. Multiple interface boards are also supported so creating a two player cabinet is as simple as plugging in a second interface board.
Of course, this interface board is not just limited to retro gaming and can be used for interfacing any N/O switch contacts to your PC.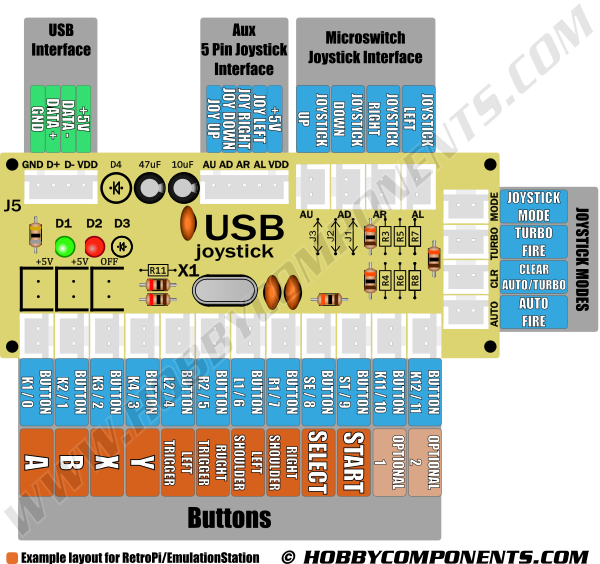 Product code: HCARCA0001
Compatible with Windows PCs and the Raspberry Pi
Zero delay encoder providing instant response gaming
No drivers required
12 x button / joystick wires
1 x 5 pin joystick loom
USB cable
Interface inputs:
1 x 5 pin or 1 x 10 pin joystick
12 x user configurable push buttons
1 x auto fire button
1 x mode clear button
1 x turbo fire button
1 x joystick mode button
Disclaimer: Libraries, example code, and diagrams are provided as an additional free service by Hobby Components and are not sold as part of this product. We do not provide any guarantees or warranties as to their accuracy or fitness for purpose.

Descriptions and diagrams on this page are copyright Hobby Components Ltd and may not be reproduced without permission.