These things are just great, I had a failure with a commercial router controller and finally got my finger out to fix/improve it. First job was to get hold of some stepper drivers and see if they had what I needed to run my motors (NEMA 23). They did, so start on a new case design. As the router produces dust I wanted to avoid the cabinet getting dust inside, so some form of forced cooling was going to be needed.
Some imagineering and CAD time brought about this design. The drivers are inside the cabinet, the fans and exhaust ports on the outside.
3D printing is basically AWSOME, I had these parts printed the next day on my printer. I even printed bolt on mounting slots for the PCB's
The initial design was going to use LinuxCNC for control, but I happened on some complete controllers that handle g-code for less than the price of Mach3. I will have to get it all up and running to be sure it will do everything I need. The g-code is transferred from PC to controller via a USB flash drive, so the only possible downside is no g-code tweaking at the console. For proven jobs this will be way faster and I no longer need a tower PC next to the router (full parallel port required for LinuxCNC)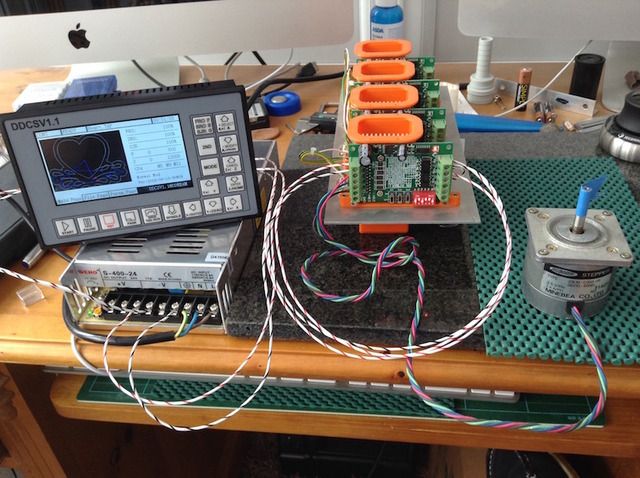 All testing completed, I just need to route out a case now !!! Well, maybe once I have this lot jury rigged for that job. Thanks to Hobby Components for these great controllers, very underestimated for real CNC applications, next project will be a mill conversion.
Mac