This is a large 7" colour TFT display with driver module. It has a high resolution of 800 * 480 pixels and together with the controller it can directly accept a video signal via its standard HDMI, VGA, or composite inputs. This means the display can be used as a general purpose monitor making it ideal for use with small in embedded computers like the RaspberryPi. Its analogue inputs also means that it is a good solution for old hardware that doesn't have HDMI capabilities.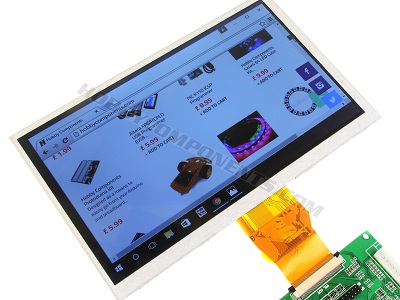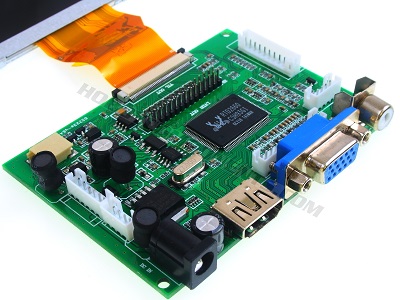 Features:
7 Inch colour TFT display
High resolution 800 x 480 pixels
Dedicated driver board with RTD2660 controller
HDMI digital input
VGA input
Composite input.
Compatible with most embedded computer such as the RaspberryPi,
Applications: mobile DVD, digital photo frame, car systems, multimedia applications and other audiovisual systems
Specifications:
Product Code: HCMODU0096
Resolution: 800 x 480
Operating voltage: 5 to 12V (see item HCPOWE0006 for a suitable power supply)
Rated Power: 6-7W
Signal input: AV + VGA + HDMI (HDMI 1.2)
Touch screen: Not supported
Backlight: LED
Dimensions (screen): 155 x 87mm
Dimensions (with bezel): 165 x 100mm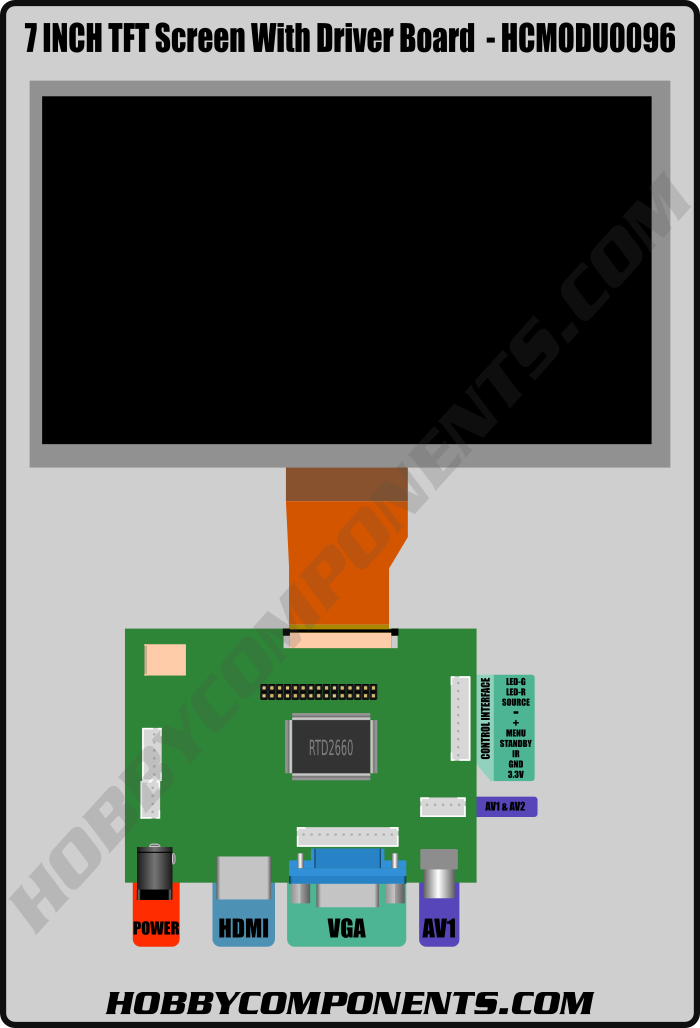 Please note:
To connect the screen to the driver board you will need to insert the ribbon cable from the screen into the socket on the driver board. Please take care when doing this and do not use any excessive force otherwise you will risk damaging the cable and the socket.



When in use the ribbon cable should not be subjected to mechanical stress.
Please follow these steps to insert connect the screen to the driver board:
1) Locate the socket for ribbon cable on the driver board.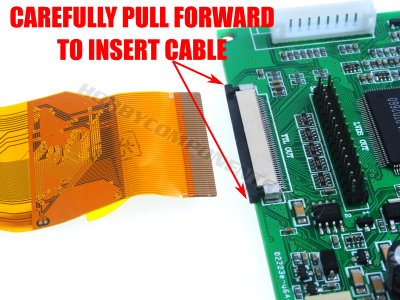 2) Gently pull the black part of the connector forward slightly. It should only move out by ~ 1mm. Do not force it any further.
3) Insert the ribbon cable into the socket. When inserted there will be ~ 1mm of the gold contact pads exposed from the connector. Do not force the cable in any further.
4) Once the cable is inserted and correctly aligned push the black part of the connector back to its original position. This should firmly hold the ribbon cable in place.
FAQ:
Can I connect this display to my Arduino?
No, only devices capable of generating a video signal.
I've connected the display to my RaspberryPi but there are black borders, how do I make it use the whole of the display?
The controller will not upscale the video signal from your Pi. You will therefore need to make sure that the resolution of your desktop is set to 800x480. To do this on a RaspberryPi running Raspbian you'll need to edit the config.txt file. This can be access simply by holding the shift key as Raspbian boots or by opening a terminal window and from the root folder issue the following command:
Then add or modify the following lines:
Code: Select all
hdmi_group = 2
hdmi_mode = 87
hdmi_cvt = 800 480 6 0 0 0
disable_overscan = 1
Additionally if you have the following overscan lines uncommented, comment them out by putting a # at the beginning of the line as follows:
Code: Select all
#overscan_left = 24
#overscan_right = 24
#overscan_top = 16
#overscan_bottom = 16