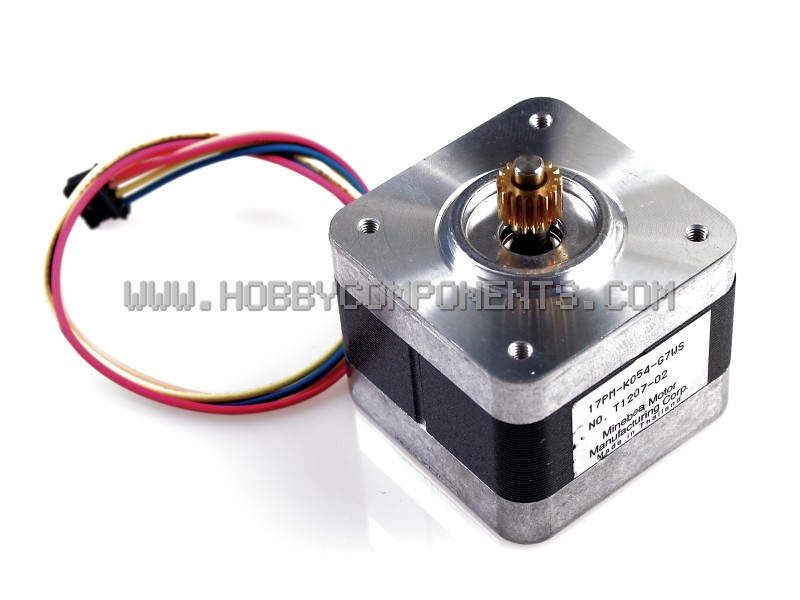 Description:
These motors rotate at fixed angles by digitally controlled electronic pulses. Hybrid-type stepping motor combine a rotor with a permanent magnet and a magnetic body using ball bearings. Bearings are crucial to motor precision. Minebea's hybrid type stepping motors use high-precision ball bearings manufactured in-house greatly contributing to the precision and reliability of these products.
The Minebea hybrid stepper motor is similar in design to the Nema 17 motor making it ideal for use in robotics and 3D printer applications.
Specification:
Model: 17PM-K049U
Step Angle: 1.8 degrees
Rated Current: ~0.8A
Resistance: 3.1~8.3 Ohm
Holding Torque: 200mNm
Inductance: 3.2~8.1
Rotor Inertia: 37 g・ cm3
Detent Torque 10.8 mNm
Mass: 200g
Dimentions: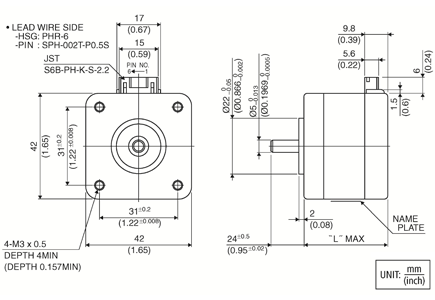 L = 34mm
Note: Version supplied is leaded version and does not include connector shown in diagram.
Connections:
RED.......A
YEL......./A
BLU.......B
ORG....../B