The perfect accompaniment to our Pyroelectric Infrared PIR Motion Sensor Detector Module HC-SR501. This clear ABS bracket has two screw holes for the module to be attached to the bracket, and two to connect the bracket securely to your project. Nuts and screws are also included.
This bracket is also available with a PIR Module. Just search HCSENS0042 on our website.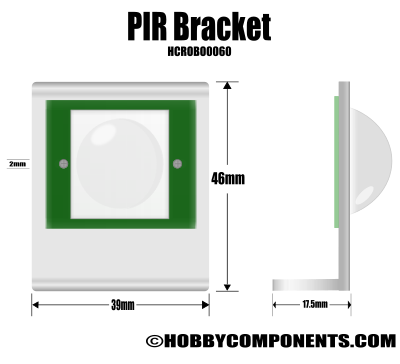 Disclaimer: Libraries, example code, and diagrams are provided as an additional free service by Hobby Components and are not sold as part of this product. We do not provide any guarantees or warranties as to their accuracy or fitness for purpose.

Descriptions and diagrams on this page are copyright Hobby Components Ltd and may not be reproduced without permission.