A compact USB in-circuit programmer (HCDVBD0031) specifically designed to program most versions of Atmel AVR microcontrollers. The programmer plugs straight into a USB port on your computer and features the standard Atmel 10 pin ICSP IDC header. With the included IDC cable this allows it to connect directly to many types of Atmel development boards. We have also included a 10 to 6 pin adapter to allow it to be compatible with the standard 6 pin ICSP header. This includes most types of Arduino development boards such as the Uno, Nano, Mega, etc.
Additionally we have reprogrammed the firmware to allow it to be directly compatible with the Arduino IDE (simply select Tools->Programmer->USBasp) - the standard firmware is NOT compatible with the latest versions of the Arduino IDE.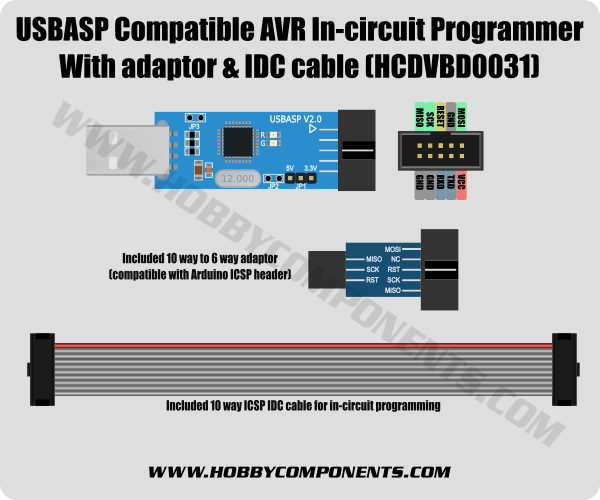 Features:
Compatible with most types of Atmel AVR microcontrollers (see list)
Standard 10 pin ICSP header
Included ICSP cable for solderless connection to your development board
Included 10 to 6 pin adapter
Configurable 5V and 3V power supply
LED power and programming indicators
Compatible with AVRDude and Arduino IDE
Supported devices:
ATMega
ATmega168 ATmega168A ATmega168P ATmega168PA ATmega328
ATmega328P ATmega103 ATmega128 ATmega128P ATmega1280
ATmega1281 ATmega16 ATmega16A ATmega161 ATmega162
ATmega163 ATmega164 ATmega164A ATmega164P ATmega164PA
ATmega169 ATmega169A ATmega169P ATmega169PA ATmega2560
ATmega2561 ATmega32 ATmega32A ATmega324 ATmega324A
ATmega324P ATmega324PA ATmega329 ATmega329A ATmega329P
ATmega329PA ATmega3290 ATmega3290A ATmega3290P ATmega64
ATmega8 ATmega8A ATmega48 ATmega48A ATmega48P
ATmega64A ATmega640 ATmega644 ATmega644A ATmega644P
ATmega644PA ATmega649 ATmega649A ATmega649P ATmega6490
ATmega48PA ATmega88 ATmega88A ATmega88P ATmega88PA
ATmega6490A ATmega6490P ATmega8515 ATmega8535
ATTiny
ATtiny12 ATtiny13 ATtiny13A ATtiny15 ATtiny25
ATtiny26 ATtiny45 ATtiny85 ATtiny2313 ATtiny2313A
Older Devices
AT90S1200 AT90S2313 AT90S2333 AT90S2343 AT90S4414
AT90S4433 AT90S4434 AT90S8515 AT90S8535
Pinouts:
USBasp:
10 pin IDC
1)..............MOSI
2)..............VCC (5V/3.3V via JP1)
3)..............GND
4)..............TXD
5)..............RESET
6)..............RXD
7)..............SCK
8)..............GND
9)..............MISO
10)............GND
JP1:
Target power supply jumper. Selects between 3.3V and 5V power supply to target board.
JP2:
Self programming mode. Short to reprogram USBasp firmware
JP3:
Slow clock mode. Short if target clock is lower than 1.5MHz
R LED:
Illuminated when programming device.
G LED:
Power indicator.
Windows drivers:
To use your programmer with the Windows operating system you will first need to install a driver. To do this you can use the Zadig driver install utility which can be downloaded here:
The latest version of this utility can be downlaoded directly from the Zadig website here:
http://zadig.akeo.ie/
1) Plug your programmer into a USB port on your computer Windows may complain that it cannot find a driver but just ignore this message.
2) Run the Zadig utility by double clicking the zadig.exe executable.
3) The Zadig utility should now open up. In the drop down box at the top of the window you should be able to select the programmer. It will normally be listed as 'USBasp'. If you don't see it listed then go to Options->List all devices and try the drop down box again. You can confirm that you have the right device selected by checking that the USB ID text box is showing the correct VID and PID (16C0 & 05DC). Also make sure you have WinUSB (v6.1.xxx.xxxxx) selected for the driver driver version.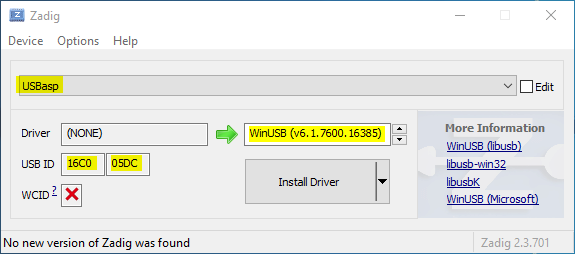 4) Click the 'Install Driver' button. This will automatically install a driver for the analyser. You can now close the Zadig window.
Old Drivers (use new Zadig method above):
Disclaimer: Libraries, example code, and diagrams are provided as an additional free service by Hobby Components and are not sold as part of this product. We do not provide any guarantees or warranties as to their accuracy or fitness for purpose.

Descriptions and diagrams on this page are copyright Hobby Components Ltd and may not be reproduced without permission.