This small DC to DC step down voltage converter is capable of supplying load currents of up to 2A. It has a wide input and output voltage operating range of 5V to 23V input and 0.5V to 16.5V output. The module includes a back-lit LCD display which will show the current output voltage and current. Two buttons allow for setting the output voltage in small ~0.04V increments/decrements. Additionally this module comes with a clear acrylic protective case.
Hobby components notes: Please note that the LCD includes a battery charge icon which is not implemented on this module. Input voltage must be a minimum of 2V above the required output voltage.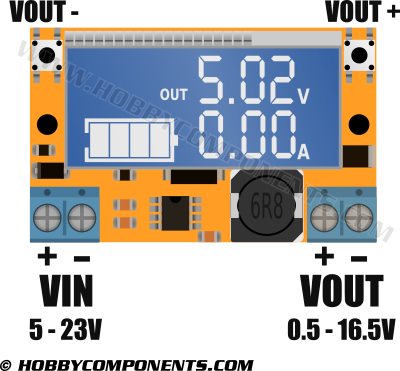 Specification:
Product code: HCMODU0110
Input Voltage: 5 to 23V
Output voltage: 0.5 to 16.5V
Max output current (continious): 2A (see table)
Conversion efficiency (Vin=5.0V, Vout=3V Iload=1A): 84%
Load regulation (Vin=5.0V, Vout=3V Iload=1A): 3.8%
Dimensions (module): 50mm x 31mm x 14mm
Dimensions (case): 62mm x 43.3mm x 18.3mm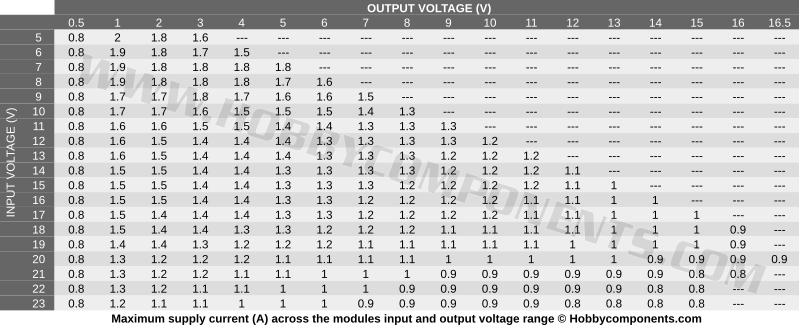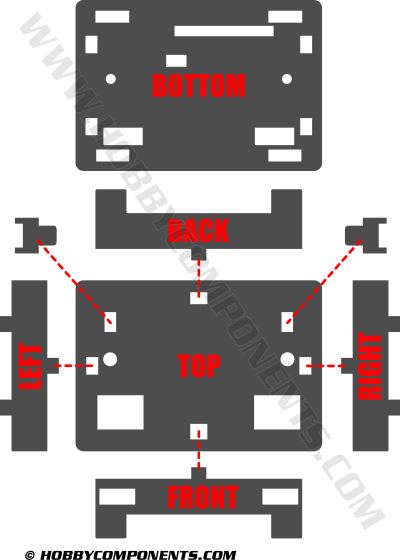 Tip: Construct the case with the top section facing downwards.
Disclaimer: Libraries, example code, and diagrams are provided as an additional free service by Hobby Components and are not sold as part of this product. We do not provide any guarantees or warranties as to their accuracy or fitness for purpose. Diagrams are for illustration purposes only and may not be to scale.

Copyright notice: Descriptions and diagrams on this page are copyright Hobby Components Ltd and may not be reproduced without permission.