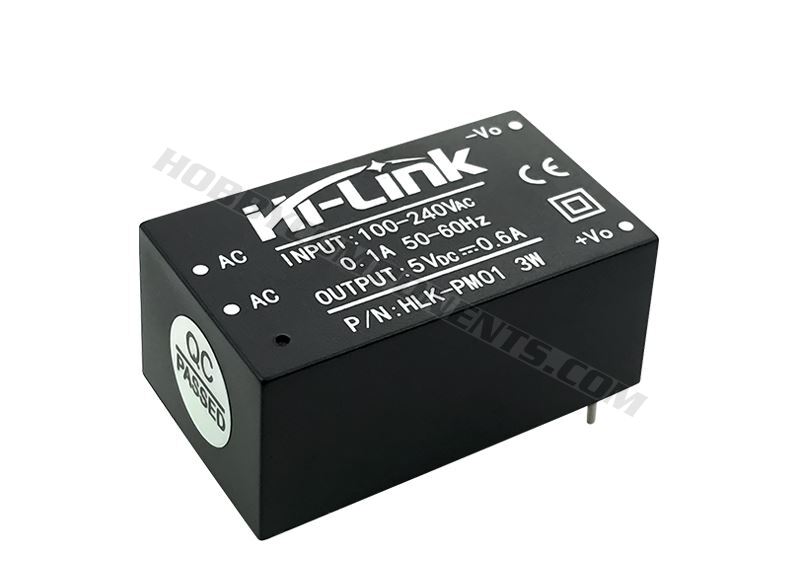 The Hi-Link HLK-PM01 is a compact and reliable power module designed to provide a convenient solution for integrating AC to DC power conversion into your electronic projects. With its high efficiency and compact size, this module is ideal for applications requiring a stable and regulated DC power supply.
Featuring a universal input voltage range of 100VAC to 240VAC, the HLK-PM01 is compatible with various worldwide AC power systems. It provides a regulated DC output voltage of 5V at 600mA (3W), making it suitable for powering a wide range of low-power electronic devices such as microcontrollers, sensors, and small embedded systems.
Designed with safety in mind, the HLK-PM01 incorporates advanced protection features including short circuit, over-current, and over-voltage protection, ensuring a reliable and stable power supply to your electronic circuits. Its compact size and PCB-mountable design make it easy to integrate into your projects, saving valuable space and simplifying the installation process.
The HLK-PM01 boasts high efficiency and low power consumption, making it an environmentally friendly choice. It is built with quality materials and undergoes rigorous testing to ensure excellent performance and long-term reliability.
Specifications:

Product code:					HCPOWE0011
Rated input voltage:				100~240Vac
Max Supply Current:				≤0.2A
Input Inrush Current:				≤10A
No-load rated output voltage:		5.0±0.1Vdc
Full load rated input voltage:		5.0±0.2Vdc
Continuous max output current:	600mA
Voltage regulation factor:			±0.2%
Load regulation:				±0.5%
operating temperature:			-25 ~ +60℃
Input voltage efficiency (110Vac):	≥69%
Input voltage efficiency (220Vac): 	≥70%
Long term reliability: 			MTBF≥100000h
External fuse recommended:		0.5A/250Vac
Dimensions (LxWxH):				34.8 x 20.5 x 15mm

Dimensions: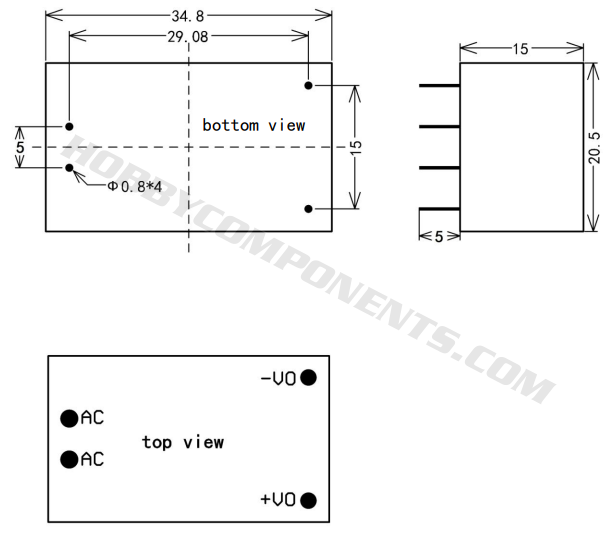 SAFETY NOTICE/ DISCLAIMER: This component requires high voltages and should only be purchased by qualified or experienced individuals. Improper handling, installation, or operation of the component may result in electric shock, injury, or damage to property. By purchasing and using the component, the purchaser acknowledges and accepts these risks and agrees to comply with all safety precautions, guidelines, and applicable laws and regulations. Hobby Components shall not be held liable for any direct, indirect, incidental, or consequential damages arising from the use or misuse of the component.
Libraries, example code, and diagrams are provided as an additional free service by Hobby Components and are not sold as part of this product. We do not provide any guarantees or warranties as to their accuracy or fitness for purpose.

Descriptions and diagrams on this page are copyright Hobby Components Ltd and may not be reproduced without permission.