This DC to DC Step-Down Adjustable Power Supply Module is based on the LM2596 switching regulator.
Input voltage: 4-35V
Output Voltage: 1.5-35V (adjustable)
Output current: rated current 2A, maximum 3A (heat sink required)
Conversion efficiency: Up to 92% (the higher the voltage, the higher the efficiency)
Switching Frequency: 150KHz
Rectifier: Non-Synchronous Rectification
Module Properties: Non-isolated step-down module (buck)
Short circuit protection: current limiting
Operating temperature: Industrial grade (-40 to +85) (output power 10W or less)
Full load temperature rise: 40
Load regulation: ± 0.5%
Voltage regulation: ± 0.5%
Dynamic response speed: 5% 200uS
Output ripple:
Input 12V Output 5V 3A 60mV (MAX)
Input 24V Output 12V 3A 120mV (MAX)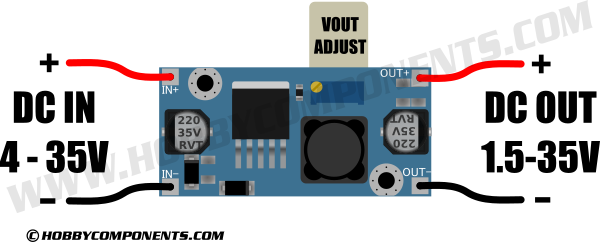 Dimensions: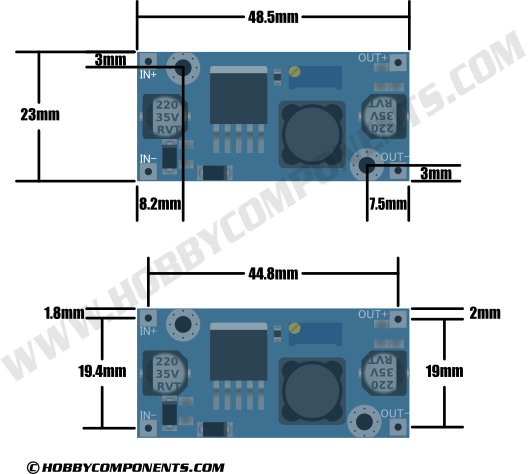 Libraries, example code, and diagrams are provided as an additional free service by Hobby Components and are not sold as part of this product. We do no provide any guarantees or warranties as to their accuracy or fitness for purpose.

Descriptions and diagrams on this page are copyright Hobby Components Ltd and may not be reproduced without permission.