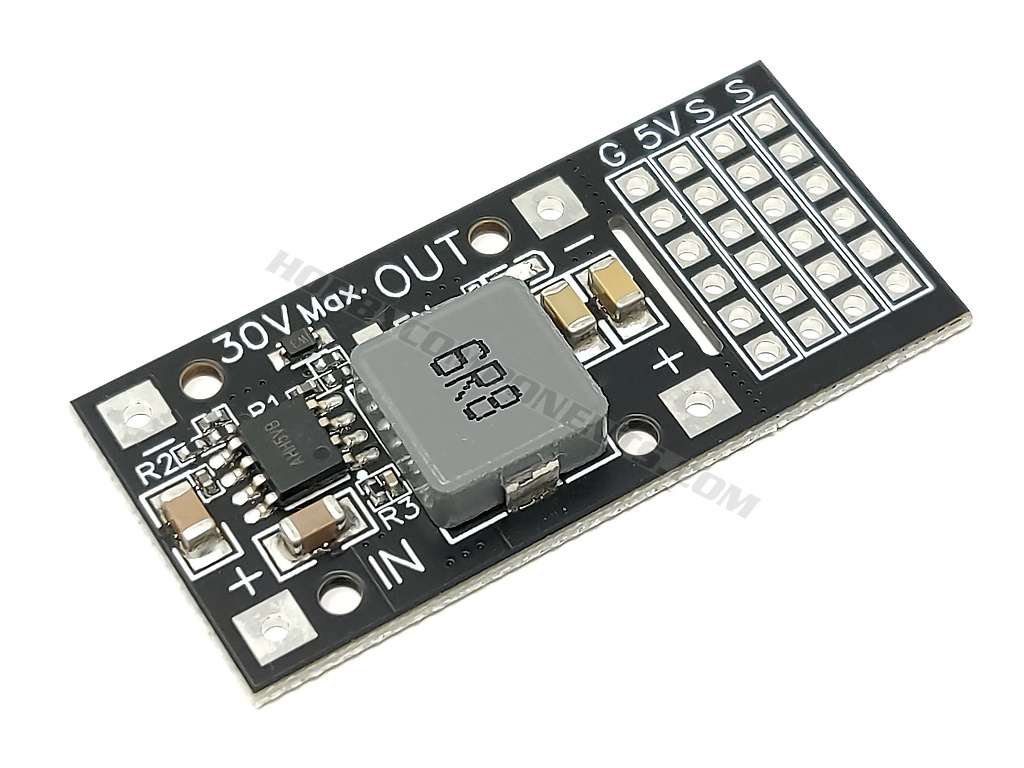 A compact DC to DC power supply module that can accept a wide input voltage range of 7 to 30V (< 24V recommended) with a high current output capability. The module will step down the input voltage to a fixed stable 5V output. Input and output connections are via large solderable pads and also includes a grid of pads in an arrangement for powering multiple servos (max number of servos will be dependant on power requirements of each servo), or just for convenient connection of multiple 5V devices. Should you not require the additional pads these can be broken off leaving the main large output pads.
Specifications:
Product code: HCMODU0231
Module type: SY8205 + servo pads
Input voltage: 7V to 30V (< 24V recommended)
Output Voltage: 5V
Max output current (peak or with active cooling @ 5V): 5A
Max output current (continuous @ 5V): 3.7A (see table)
Dimensions: 43.5 (31.5 with servo pads removed) x 20.2 x 5.0mm
Hobby Components tests:
Table below shows maximum output currents over recommended input voltage range whilst keeping the module below a 70oC operating temperature. For currents above the specified maximum currents within this table, active cooling is recommended.

Libraries, example code, and diagrams are provided as an additional free service by Hobby Components and are not sold as part of this product. We do no provide any guarantees or warranties as to their accuracy or fitness for purpose.

Descriptions and diagrams on this page are copyright Hobby Components Ltd and may not be reproduced without permission.