This is a square wave pulse generator module based on the ubiquitous NE555 timer IC. The module can be powered from a wide power supply range (4.5 to 12V) and will produce a continuous square wave output between 15Hz to 24KHz which can be set by on on-board multi-turn potentiometer. Useful for applications where an approximate frequency clock source is required such as for stepper motor step generation tone generation etc.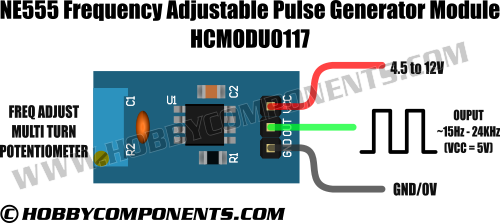 Specification:
Product code: HCMODU0117
Supply voltage: 4.5 to 12V
Supply current: 3mA at 5V Vcc
Min freq (approx): 15Hz 49% duty cycle at 5V Vcc
Max freq (approx): 24KHz 89.4% duty cycle at 5V Vcc
Output voltage: 4.5V at 5Vcc / 11.5V at 12Vcc
Libraries, example code, and diagrams are provided as an additional free service by Hobby Components and are not sold as part of this product. We do no provide any guarantees or warranties as to their accuracy or fitness for purpose.

Descriptions and diagrams on this page are copyright Hobby Components Ltd and may not be reproduced without permission.