This item is a wireless remote controlled module with a battery operated transmitter fob. It provides a means of remotely switching a high powered device from up to 10 meters distance. The receiver module contains a relay with a set of clean contacts (NO & NC) which can be used to switch an electrical device of up to 10A at 250V AC or 30V DC and set of screw terminals allows for easy connection to the relay. Pressing the button on the transmitter will actuate the relay on the receiver module for as long as the button is pressed and the transmitter is in range. Releasing the button will deactivate the relay. The receiver also includes a learning mode that allows it to be programmed to listen to several compatible transmitters:
These units are based on the PT2262 & PT2272 433MHz transmitter and receiver IC which means they are compatible with our 433MHz PT2262 wireless transmitter/receiver module. See items HCMODU0048 & HCMODU0049.
The transmitter module includes a 12V 23AE alkaline battery and the receiver module can be powered by a 12V DC supply via its screw terminals. Also included with this set is a durable ABS case to house the receiver module. Please note that this case is a standard fuse box and you may need to modify it for cable access.
Please note: This is a short range device operating in the 433MHz spectrum. As with all wireless transmitters please make sure this device is legal to operate within your country.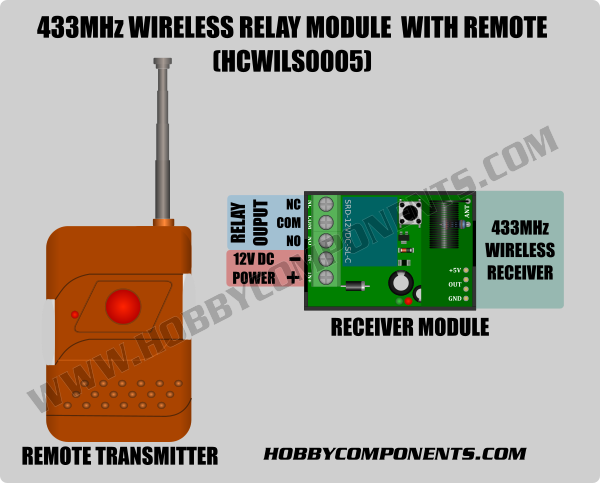 Features:
Product code: HCWILS0003
Operating frequency: 433MHz
Max range: ~10 Meters in free space
Remote: Key ring fob with 1 push button and extendable antenna.
Remote control power: Battery operated (12V 23AE included)
Receiver: Programmable relay module capable of receiving a trigger signal from multiple transmitters.
Receiver power: 12V DC via screw terminals
Receiver outputs: NO/NC clean relay contact capable of switching up to 10A 25VAC or 30VDC
Programming the receiver:
The receiver module should already be programmed to work with the transmitter; however, you can add or remove additional devices as follows:
Adding a device to the receiver
A short press of the push button on the receiver module will put it into learn mode for a few seconds.
Whilst in learn mode the receiver will listen for any new transmitted signals. At this point you should trigger the transmitter that you wish to pair.
After a few seconds the receiver will flash its on board LED a few times to signify it has now exited learn mode and returned back to its normal operation.
You should now be able to control the receiver with the newly paired remote device.
Removing all devices:
To remove all paired transmitters from the receiver module press and hold the learn button.
The receivers LED will illuminate whilst the button is pressed. After a few seconds the LED will turn off and you can now release the button.
The receiver's memory will now be blanked and the module will no longer respond to any previously programmed transmitters. You can then add new transmitter(s) by following the above "adding a device" steps.