This item is a wireless 4 channel remote controlled module with a battery operated transmitter fob. The fob has 4 individual buttons which, when pressed, will trigger one of the 4 digital output pins on the receiver module. When no buttons are pressed all 4 digital pins will remain low (0V). When one of the transmitter buttons is pressed the appropriate output pin on the receiver will go high (5V) and will remain high until the button is released.
These units are based on the PT2262 & PT2272 315MHz transmitter and receiver IC which means they are compatible with our 315MHz PT2262 wireless transmitter/receiver module. See items HCMODU0040 & HCMODU0041.
The transmitter module includes a 12V 23AE alkaline battery and the receiver module can be powered by a single 5V DC supply.
Notes:
To obtain maximum receiver range an external antenna should be attached to the ANT pad on the receiver module. We recommend a length of single core wire measuring 23.8cm (1/4 wavelength) in length.
This is a short range device operating in the 315MHz spectrum. As with all wireless transmitters please make sure this device is legal to operate within your country.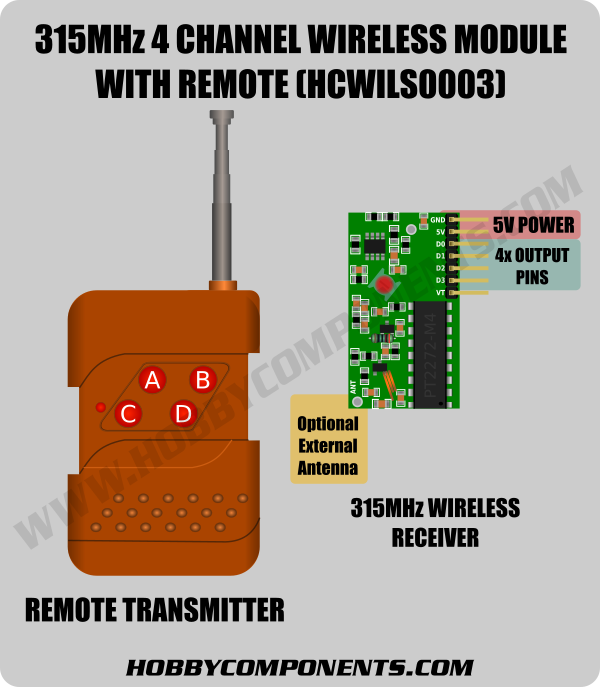 Features:
Product code: HCWILS0003
Operating frequency: 315MHz
Max range: ~10 Meters in free space
Remote: Key ring fob with 4 push buttons and extendable antenna.
Remote control power: Battery operated (12V 23AE included)
Receiver: 4 Channel module capable of receiving a trigger signal from multiple transmitters (Note only one channel can be activated at any one time).
Receiver power: 5V DC via screw terminals
Receiver outputs: 5V TTL active high.
Receiver Pinout:
1) GND.......Power 0V
2) 5V..........Power +5V
3) D0.........Digital output 1 (high when button B is pressed)
4) D1.........Digital output 1 (high when button D is pressed)
5) D2.........Digital output 1 (high when button A is pressed)
6) D3.........Digital output 1 (high when button C is pressed)
7) VT.........Valid Transmission (high = valid transmission received)
Downloads:
Disclaimer: Libraries, example code, and diagrams are provided as an additional free service by Hobby Components and are not sold as part of this product. We do not provide any guarantees or warranties as to their accuracy or fitness for purpose.

Descriptions and diagrams on this page are copyright Hobby Components Ltd and may not be reproduced without permission.