This module has been designed as an alternative to the PIR motion detectors commonly used in burglar alarms. Instead of sensing changes in infrared radio emitted by a moving person this sensor uses a microwave Doppler radar to detect moving objects. It has a sensitivity range of ~7 meters. When triggered its trigger output pin will switch from (LOW) 0V to high (3.3V) for ~ 2 to 3 seconds before returning to its idle LOW state.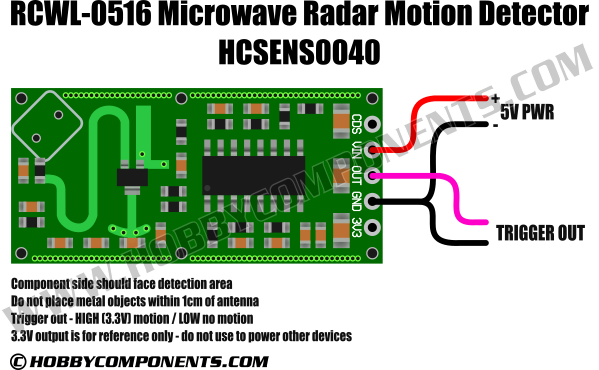 Features:
Product code: HCSENS0040
Supply Voltage: 5V dc
Supply Current: >3mA (2.8mA typical)
Operating frequency: ~3.2GHz
Transmit power: 20mW (typical) / 30mW (max)
Size: 36mm x 17mm
Notes:
Component side should face detection area for maximum sensitivity
Do not place metal objects within 1cm of antenna
Trigger out - HIGH (3.3V) motion / LOW no motion
3.3V output is for reference only - do not use to power other devices.
Device operates at ~3.2GHz/20 - 30mW. In some countries it may be illegal to operate this device.
Pinout:
3V3..........Regulated output (reference only)
GND.........Ground / 0V supply input
OUT..........Trigger: HIGH (3.3V) motion detected / LOW (0V) idle
VIN.......... 5V-12V supply input
CDS..........Sensor disable input (pull low to disable)
Schematic: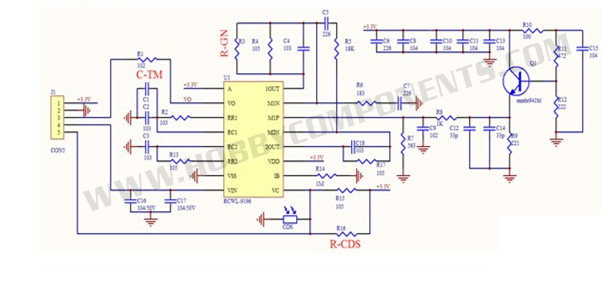 FAQ:
Can I connect it to your 5V relay module (HCARDU0001)?
Yes you can directly connect the out pin of the sensor to the trigger (S) pin of the relay module. The relay will then trigger whilst motion is detected by the sensor.
Libraries, example code, and diagrams are provided as an additional free service by Hobby Components and are not sold as part of this product. We do not provide any guarantees or warranties as to their accuracy or fitness for purpose.

Descriptions and diagrams on this page are copyright Hobby Components Ltd and may not be reproduced without permission.