The SR505 is a miniature PIR module which uses a pyroelectric sensor similar to the one found in the common SR501 but in a more compact form factor. It can be powered from a 5 to 12V supply and when triggered its output pin will go high (3.3V) for approximately 8 seconds before returning back to 0V. This makes it suitable for directly interfacing to both 3.3 and 5V microcontrollers.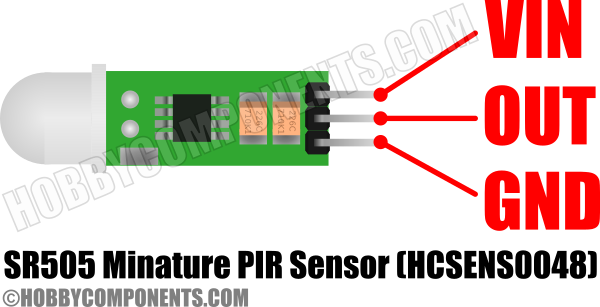 Specification
Product code: HCSENS0048
Supply voltage: 4.5 to 12V
Output voltage: 3.3V (triggered) / 0V (un-triggered)
Quiescent current: ~80uA at 5V
Trigger on time: ~8 seconds
Sensor angle: 100 degree cone
Sensor range: ~3 meters
Operating temp: -20 - +80 degrees
Lens diameter (mm): 10mm
PCB dimension (mm): 23.5 x 10.3
Overall length: 40mm inc header and sensor.
Disclaimer: Libraries, example code, and diagrams within this forum thread are provided as an additional free service by Hobby Components and are not sold as part of any product. We do not provide any guarantees or warranties as to their accuracy or fitness for purpose.

Descriptions and diagrams on this page are copyright Hobby Components Ltd and may not be reproduced without permission.