This tiny and low cost AVR development board is great for compact projects or projects that only requires a few IO pins. Based on the 8 pin Atmel ATTiny85 processor it allows for an incredibly small form factor. It also has the advantage of including a micro usb interface that allows the processor to be programmed via a USB power without the need for any download adaptors. Additionally the board also comes pre-programmed with the Arduino bootloader and test blink sketch. Please note that to use with the Arduino development environment you will need a modified version of this software (see below).
This development board is based on the DigiStump Digispark reference design and is released under the Creative Commons Attribution-ShareAlike 3.0 License available here:
http://creativecommons.org/licenses/by-sa/3.0/
Technical question for this product should be directed towards Hobby Components.
8K Flash memory
6x Digital pins P0 - P5 (two shared for USB communication)
4x ADC pins (shared with digital pins)
SPI interface (shared with digital pins)
I2C interface (shared with digital pins)
3x PWM outputs (shared with digital pins)
Can be powered via USB, 5V, or VIN (7-12V) inputs
On board 5V 0.5A regulator for external supply
Power LED and user controlled LED
5V......5V out when supplied by USB or Vin / or 5V supply in
GND...0V
VIN.....External supply in (7-12V)
P0......AREF / SDA
P1......PWM / D0
P2......D1 / ADC1 / SCK
P3......D2 / ADC2 / USB
P4......D3 / PWM / ADC3 / USB
P5......D4 / ADC4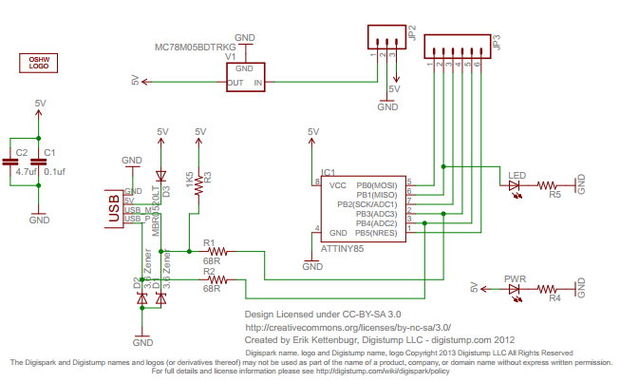 The standard Arduino IDE does not provide direct support for Tiny85 based development boards. You will need to use a modified version of this environment. This can be downloaded here:
http://sourceforge.net/projects/digistump/files/
The Zip files are prefixed with:
DigisparkArduino-Win32 For Windows
DigisparkArduino-MacOSX For Mac
DigisparkArduino-Linux32 For 32 bit Linux
DigisparkArduino-Linux64 For 64 bit Linux
Drivers are found in the usual driver folder within the IDE. To program the Tiny85 development board via the Arduino IDE you must select:
Tools>Board>Digispark (Tiny Core)
Tools>Programmer>Digispark
When programming the board make sure the USB is disconnected. You will be prompted by the IDE when to connect the board.
Order Yours Here