Low cost superheterodyne receiver and ASK transmitter. The transmitter consist of a single digital input pin that when pulled high will cause the transmitter to continuously transmit a signal at 433MHz. Conversely the receiver has a single digital output pin that is high when a signal is received. The simplicity of these modules makes them ideal for applications where low power and low data rate (4Kbps) applications are required. The modules operate on a single channel so multiple transmitters can transmit to a single receiver and vise versa.
Please note to achieve maximum transmission range an antenna must be fitted. See note below.
For Arduino users we have created an exclusive library (HCWireless) that makes transferring data over these modules as simple as possible. See bottom of this post for links.


Order yours here
RECEIVER MODULE PARAMETERS:
Product code: HCMODU0087
Model: MX-05V
Working voltage: 5V DC quiescent current: 4mA
Receiver Frequency: 433.92MHZ
Receiver sensitivity:-105DB
Size: 30 * 14 * 7mm
TRANSMITTER MODULE PARAMETERS:
Product code: HCMODU0088
Model: MX-FS-03V
Transmission Distance :20-30m (dependent on supply voltage)
Operating Voltage :3.5-12V
Dimensions: 19 * 19mm
AM transfer rate: 4Kb/s (4000 bits per second)
Transmission power: 10mW
Emission frequency: 433M
PINOUTS:
NOTES:
When using an external antenna a 1/4 wavelength is recommended. Ideally use 50 impedance ohm single-core wire, the length of the antenna 433M is about 17cm (1/4 wavelength). When locating the receiver antenna keep it as far away as possible from shielded areas, high voltages, and any other possible interfering frequencies.
MX-FS-03V Schematic:
MX-05V Schematic:
Arduino Examples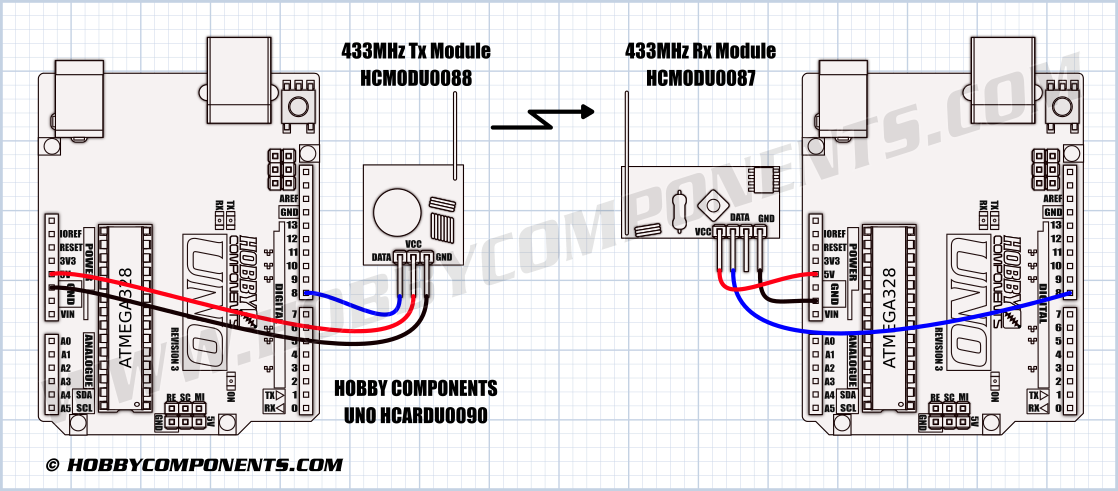 Example 'Blink' Tx Sketch:
Example 'Blink' Rx Sketch:
Example Send Message Tx Sketch:
Example Send Message Rx Sketch:
Example Send Structure Tx Sketch:
Example Send Structure Rx Sketch:
HCWireless Library:
The HCWireless library for the above sketches can be downloaded from the software section of out support forum here:
http://forum.hobbycomponents.com/viewto ... =58&t=2914
FAQ
Can I transmit to more than one receiver?
Yes, all modules operate on the same channel so any receiver will receive data from any transmitter in range.
Can I receive data from more than one transmitter?
Yes, see above.
What is the fastest data rate I can send using these modules?
You can seen a maximum of 4000 (4Kb/s) bits per second. Please note that the receiver has an auto gain circuit and when not receiving a signal will set its gain to maximum. When this occurs the output pin on the receiver may randomly toggle as it picks up random signals or noise. Therefore when transmitting a signal to the receiver the transmitter must fist send a preamble signal of ~15ms to allow the receiver to adjust it's gain to the correct level.
Disclaimer: Libraries, example code, and diagrams within this forum thread are provided as an additional free service by Hobby Components and are not sold as part of any product. We do not provide any guarantees or warranties as to their accuracy or fitness for purpose.

Descriptions and diagrams on this page are copyright Hobby Components Ltd and may not be reproduced without permission.