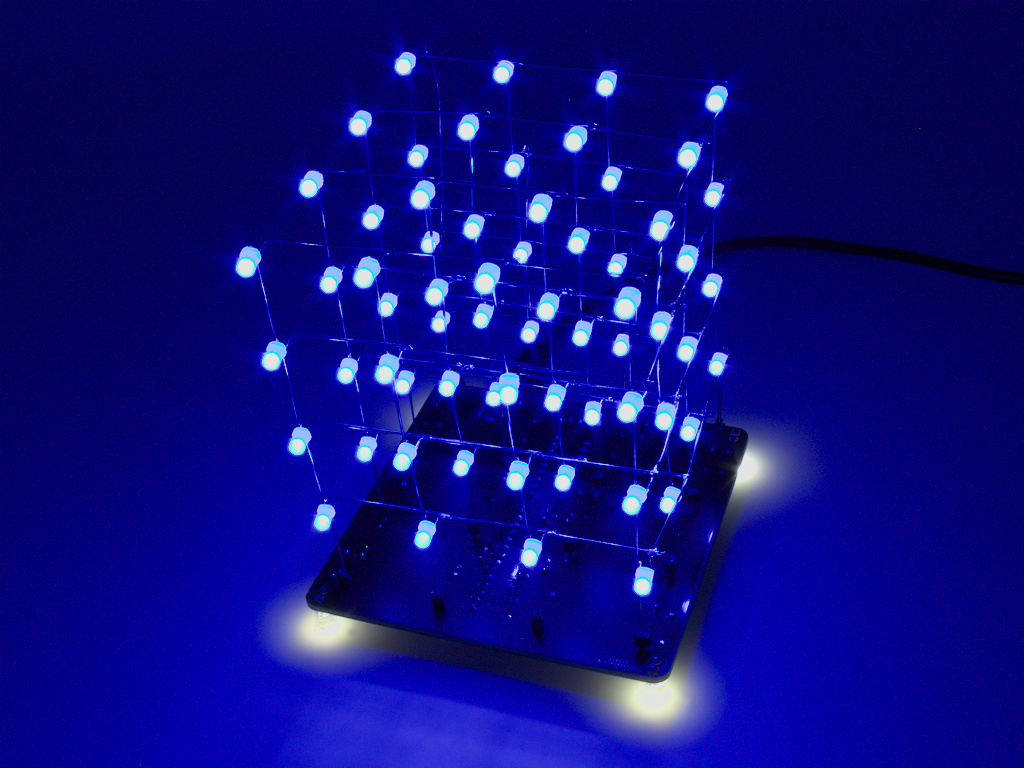 LED light cubes are a hugely popular and fun project and with this kit you will have all the parts to build your very own 64 LED cube. The kit has been specifically designed to be easy to build and includes only through-hole components so that even someone with basic soldering skills, a soldering iron and a few simple tools can build it. It comes pre-flashed with 13 animations so is ready to go as soon as its all been soldered together
For Arduino users this kit is also Arduino compatible and together with our free Arduino library you can write and upload your own cube animations (requires the Arduino IDE and a USB to serial adapter to upload sketches).
This is version 2 of the kit that includes the following changes:
* Much bigger measuring 83x83x110mm when fully built
* DC socket with USB to DC Jack cable replaces serial cable for powering directly from a 5V USB adapter
* ICs are now socketed
* Bigger PCB with more spacing between components to easier construction
* Optional LED template PCB to make constructing the LED cube easier
* Now available with cube LEDs in blue, red, white, green, and pink
* Base LEDs are now controllable
The kit is available with 5 different LED colour versions:
64 x 3mm BLUE LEDs (HCKITS0070)
64 x 3mm WHITE LEDs (HCKITS0071)
64 x 3mm RED LEDs (HCKITS0072)
64 x 3mm GREEN LEDs (HCKITS0073)
64 x 3mm PINK LEDs (HCKITS074)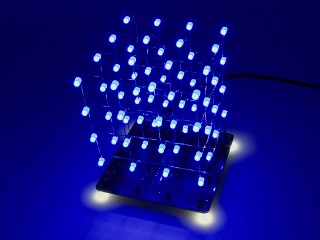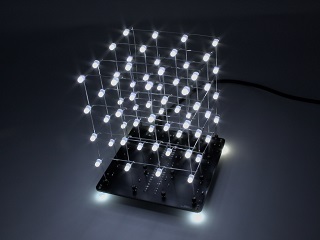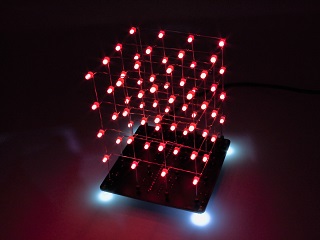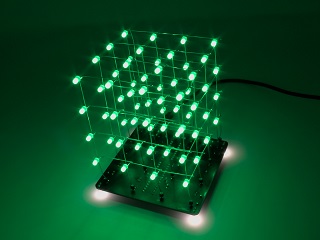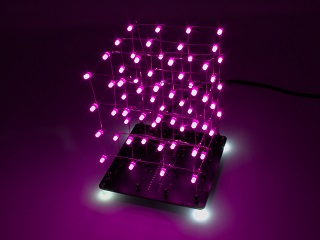 What you get in the kit: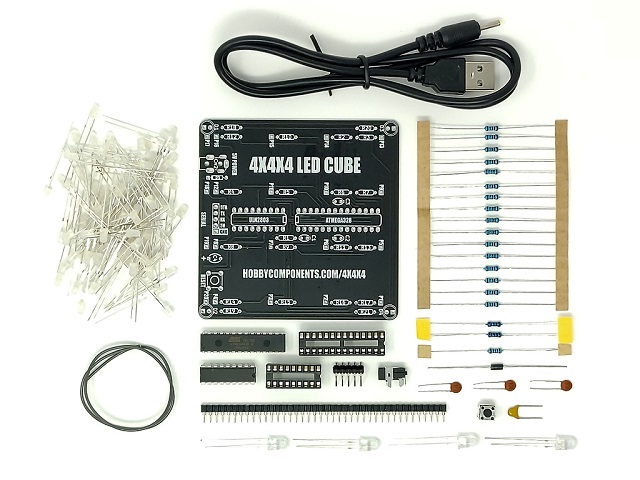 QTY 		Description
1x		Version 2 4x4x4 Cube Kit PCB
16x 		180 Ohm resistors (BRN, GRY,  BLK, BLK, BRN)
2x 		220 Ohm resistors (RED, RED, BLK, BLK, BRN)
1x 		10K Ohm resistor (BRN, BLK, BLK, RED, BRN)
3x 		100nF ceramic capacitor (marked 104)
1x 		470nF ceramic capacitor (marked 474)
1x 		SR1100 Diode
1x 		28 pin IC socket
1x 		18 pin IC socket
1x 		ULN2003 18 pin IC
1x 		ATMega328 28 pin IC
1x 		Push button
1x 		2.1mm DC socket
1x 		5 Pin right-angled header (may be supplied as a 40 pin breakable strip)
20 		(+ spares) Male to female sockets (supplied as a 40 pin breakable strip)
4x 		5mm white LEDs
64x		(+ spares) 3mm LEDs 
25cm 	Solid core wire
1x  		USB to 2.1mm DC cable
Required items (not included in the kit)
A soldering iron + solder
A small pair of snips or side cutters for trimming component leads
A 5V USB adaptor for powering the cube (500mA or greater)
Recommended items (not included in the kit)
A pair of long nose pliers for bending LED legs
Version 2 4x4x4 cube template PCB (HCPROT0101)
Version 2 cube kit build guide in PDF form:
https://hobbycomponents.com/downloads/4 ... _Guide.pdf
Files for making your own cube template:
Hole template
https://hobbycomponents.com/downloads/4 ... mplate.pdf
Silk screen
https://hobbycomponents.com/downloads/4 ... e_Silk.pdf
Arduino compatible library for creating your own sketches:
viewtopic.php?f=58&t=3007
Disclaimer: Libraries, example code, and diagrams within this forum thread are provided as an additional free service by Hobby Components and are not sold as part of any product. We do not provide any guarantees or warranties as to their accuracy or fitness for purpose.

Descriptions and diagrams on this page are copyright Hobby Components Ltd and may not be reproduced without permission.