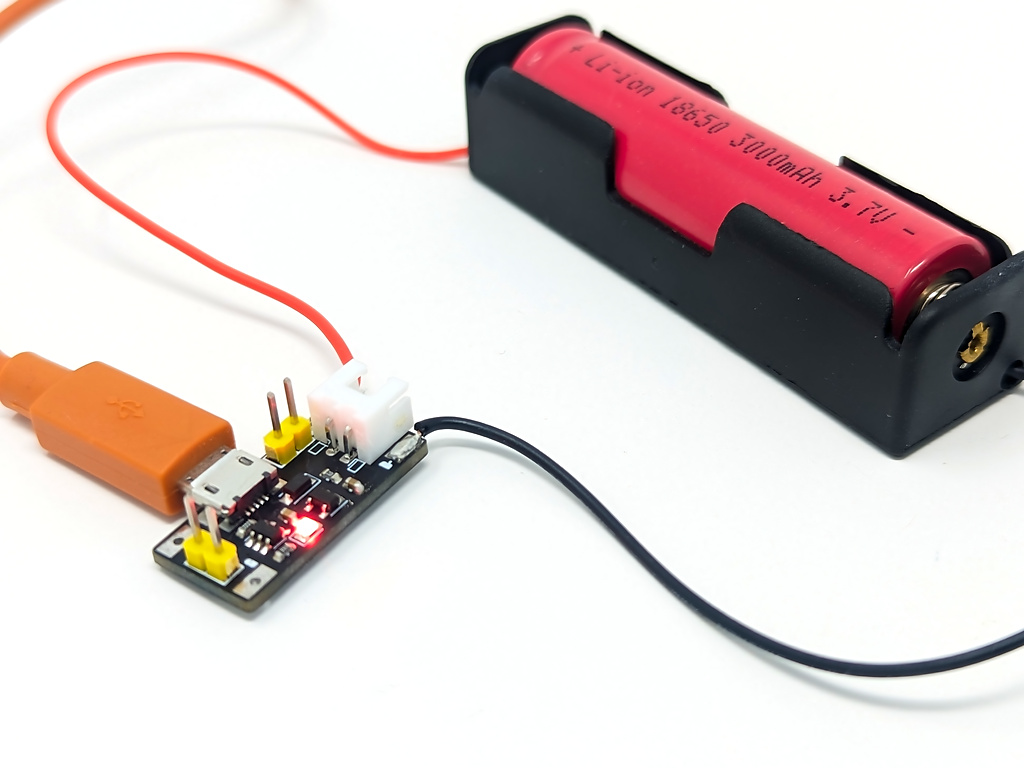 *COMMING SOON*
The Hobby Components micro charger is a tiny single cell (3.7V) lithium battery charger module which not only incorporates both battery charging protection and control, but also includes battery voltage & current over discharge protection and battery overload protection. Measuring only 27 x 14mm this tiny module can easily be incorporated into low power lithium battery applications.
The charger will accept power from either a 5V microUSB adapter or via a 4.5 to 6V power supply and will charge a connected single cell lithium battery battery at a rate of ~0.5A.
The battery can be connected via a JST XH-2.54 connector or by 2 large solder pads (BIN + & BIN -).
The module's output supplies the batteries nominal output of 3.7V (4.2V whilst charging) at a constant current of up to 2A (depending on battery and charger specification). An external device can be connected to this output via a 0.1" pitch pin header or via 2 large solder terminals (BOUT + & GND).
Supported battery type:						Single cell Lithium-ion battery
Module supply voltage:						5V via microUSB or 4.5 to 6V via power in header
Battery charge voltage max (float):				4.2V
Battery stand-by exit voltage:					4.05V
Battery charge current (max):					445mA +/- 10%
Battery charge termination current:				44.5mA +/- 10%
Battery over discharge voltage protection:			2.4V
Battery over discharge current protection:			3.5A +/- 0.9A
BAT out terminal voltage max (charging):			4.3V
BAT out terminal voltage min (discharging):		2.9V
BAT out terminal maximum continuous current:		2A
Module dimensions:							27 x 14 x 7.5mm
Battery In And Power Out Connection:

External Power Options: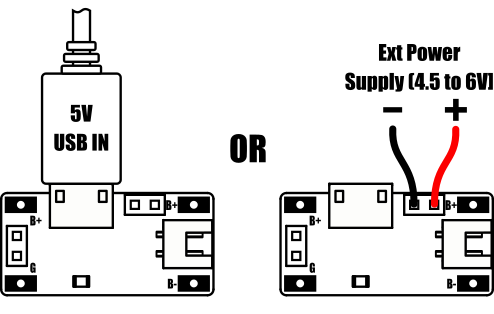 Additional info:
https://hobbycomponents.com/downloads/m ... harger.pdf
Libraries, example code, and diagrams are provided as an additional free service by Hobby Components and are not sold as part of this product. We do no provide any guarantees or warranties as to their accuracy or fitness for purpose.

Descriptions and diagrams on this page are copyright Hobby Components Ltd and may not be reproduced without permission.