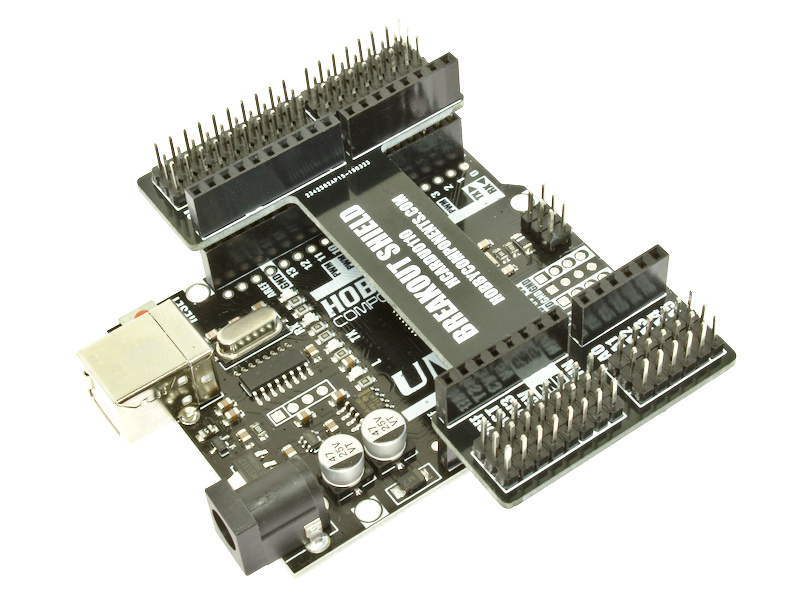 The Hobby Components breakout shield is a quick and low cost way to add extra pin access to the standard headers provided on Arduino development boards. Using this breakout shield you can connect up to 3 (see notes below) additional devices to each I/O pin of your Arduino and it also breaks out the power and GND pins for powering multiple modules and circuits. Compatible with any Arduino board that includes the standard Arduino headers - e.g. Uno, Leonardo, Mega.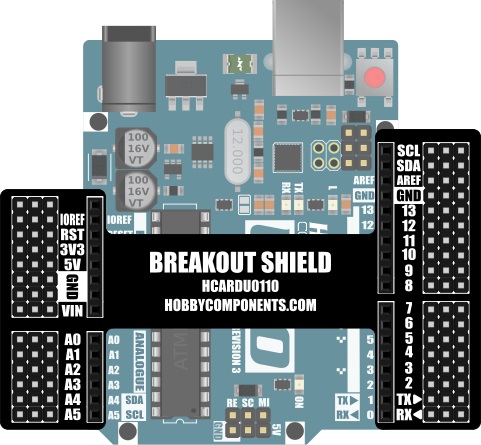 Please note:
This item is supplied in kit form and requires soldering.
When using this expansion shield to drive more than one circuit from the output of an Arduino pin do not exceed the maximum current sink or source capacity of the Arduinos digital output pin.
DO NOT use this expansion shield to connect more than one digital signal to the input of an Arduino pin.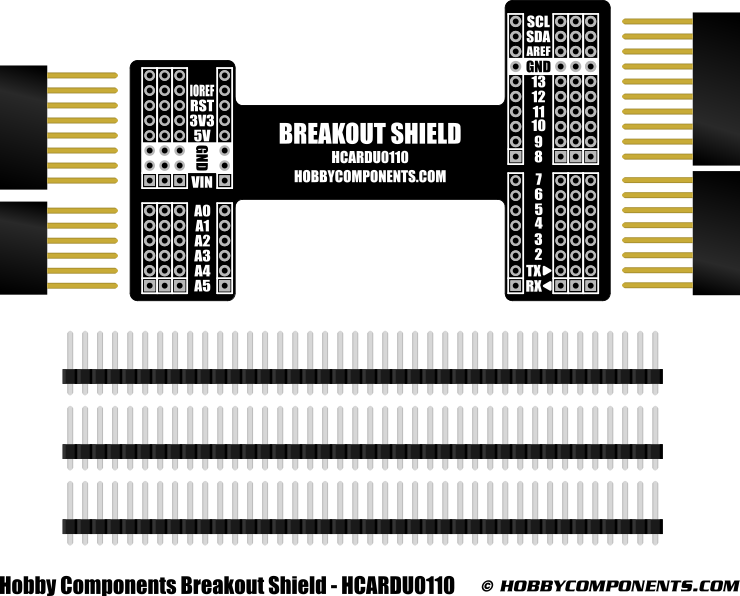 Kit contents:
1x Breakout PCB
1x 10 pin male to female header
2x 8 pin male to female headers
1x 6 pin male to female header
3x 40 pin breakable male to male headers
FAQ:
Can the breakout board be used in conjunction with other Arduino shields?
This shield can be plugged on to the top of any shield which includes the standard Arduino headers. It can also be inserted between a shield and the Arduino development board so long as the shield does not require access to the Arduinos 6 pin ICSP header.
Libraries, example code, and diagrams are provided as an additional free service by Hobby Components and are not sold as part of this product. We do no provide any guarantees or warranties as to their accuracy or fitness for purpose.

Descriptions and diagrams on this page are copyright Hobby Components Ltd and may not be reproduced without permission.