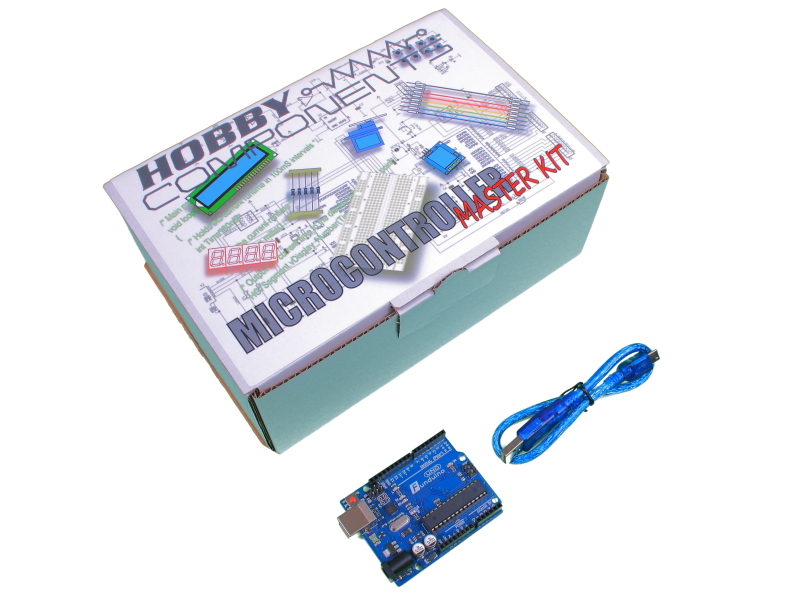 Description:
The Hobby Components Master Starter Kit is an ideal gift for anybody who wishes to get started in the world of Arduino microcontrollers and electronics. It contains a range of sensors and displays that allow you to experiment and develop software for typical Arduino based applications. This kit is specifically aimed at the Arduino platform and is sold in different versions which include either an Arduino compatible Nano, Uno, or Mega. It includes a CD containing a user manual, Arduino software and example Arduino sketches that make use of the components supplied within the kit.
This kits supplied is ready to be used out of the box and contains the following items:
Depending on which kit you opt to purchase you will receive one of the following boards:
R3 Compatible Mega + USB Cable
R3 Compatible Uno + USB Cable
1 x Proto Shield with mini Breadboard
1 x LCD Module
1 x Stepper Motor with Driver Board
1 x Tower Pro SG90 Micro Servo
1 x 4-digit 7-segment LED Display
1 x 5V Relay Module
1 x Potentiometer
1 x 8-bit Shift Register
1 x 7-Segment LED Module
1 x Battery Box
1 x IR Remote Control
1 x Breadboard
1 x 40 Pin Header
5 x 10K Resistors
5 x 1K Resistors
8 x 220R Resistors
1 x 10-way 20cm Female to Female Dupont Cable
30 x Jumper Cables
10 x Push Buttons
4 x Miniature Push Buttons
1 x Speaker
1 x Piezoelectric Sounder
2 x Tilt Switches
1 x LM35 Temperature Sensor
3 x Light Dependant Resistor
1 x Joystick Module
1 x IR Light Emitting Diode
1 x IR Receiver
1 x Tri-Colour LED Module
15 x LEDs
CD including manual and example sketches.
Kit with R3 Uno
Kit with R3 Mega