Hobby Components 16 Channel Logic Analyser (HCTEST0035)
Posted: Fri Dec 07, 2018 10:46 am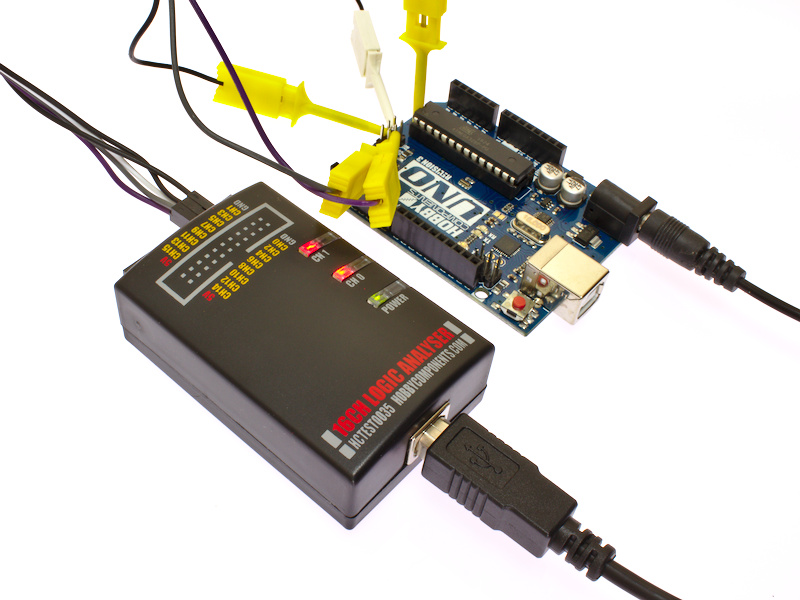 The Hobby Components logic analyser can capture up to 16 separate channels of 3.3V or 5V logic signals at a maximum sample rate of 12MS/s. Designed for use with the open source Sigrok PulseView and sigrok-cli software, this analyser is a complete low cost solution capable of capturing and decoding many popular types of serial and parallel protocols including I2C, SPI, UART, PWM, etc.
• 16 channels at up to 12MS/s*.
• Capture depth of up to 1T samples*
• Compatible with 3.3V & 5V logic levels.
• Compact design, no additional hardware required - just connect the analyser to your computer with supplied USB cable, install the software and you're ready to go.
• Compatible with Microsoft Windows 7, 8, 10 32/64 bit (other operating systems are supported).
• Works with Sigrok PulseView and sigrock-cli.

Package contents include:
1 x 16 channel logic analyser device
1 x USB cable
4 x Blue Test leads
4 x Green Test leads
4 x Yellow Test leads
4 x White Test leads
2 x Black Test leads
2 x Red Test leads
* Maximum capture rate and memory depth may depend on the specification and performance of your computer system. An internet connection is required for software download.
PulseView and sigrok-cli is a separate open source cross-platform project developed by the Sigrok team. Latest builds of the software and more information about the project can be found by visiting the official Sigrok website sigrok.org.
Sigrock PulseView Software:
Real Time Clock Example:
ARM ETMv3 Example:
EEPROM Example:
Z80 Example:
Windows Users:
Sigrok software:
The latest version of the Sigrok software can be downloaded from the official Sigrok website (sigrok.org). The latest Windows build of the PulseView (GUI) software can be downloaded here:
https://sigrok.org/wiki/Downloads
Drivers:
To use your analyser with the Sigrok software you will first need to install a driver. To do this you can use the Zadig driver install utility which is downloaded with the Sigrok Pulseview software:
1) Connect your analyser to the computer using the supplied USB cable. Windows will complain that it cannot find a driver but just ignore this message.
2) After downloading and installing the Sigrok Pulseview software the Zadig utility can be found in one of the following paths:
C:\Program Files (x86)\sigrok\PulseView\
OR
C:\Program Files\sigrok\PulseView\
3) Run the Zadig utility by double clicking the zadig.exe executable. Note, if you are using Windows XP then run the zadig_xp version instead.
4) The Zadig utility should now open up. In the drop down box at the top of the window you should be able to select the analyser. It will normally be listed as 'Unknown Device #1'. If you don't see it listed then go to Options->List all devices and try the drop down box again. You can confirm that you have the right device selected by checking that the USB ID text box is showing the correct VID and PID (1D50 & 608C). Also make sure you have WinUSB (v6.1.xxx.xxxxx) selected for the driver version.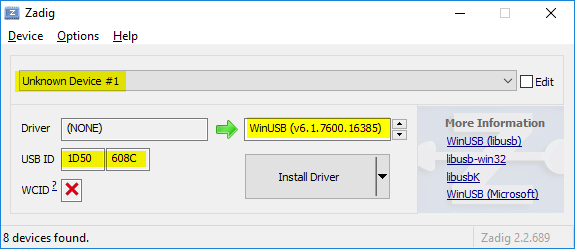 5) Click the 'Install Driver' button. This will automatically install a driver for the analyser. You can now close the Zadig window and run the pulseview software.
6) Disconnect the analyser and reconnect it before running pulseview. In Pulseview the analyser should appear at the top of the window as 'sigrok FX2 LA (8ch)'
Libraries, example code, and diagrams are provided as an additional free service by Hobby Components and are not sold as part of this product. We do no provide any guarantees or warranties as to their accuracy or fitness for purpose.

Descriptions and diagrams on this page are copyright Hobby Components Ltd and may not be reproduced without permission.