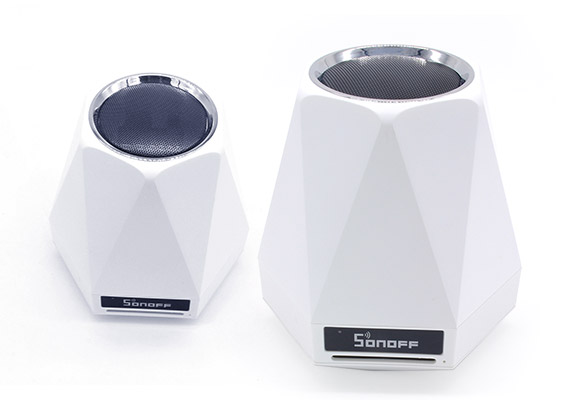 The Sonoff SC is an ESP8266 based WiFi environmental monitor device. It detects current temperature, humidity, light intensity, air quality (particulate), and even sound levels (noise pollution), and directly sends real-time data to iOS/Android APP EWeLink.
Hobby Components notes: Please note that Sonoff state that this product is for development and experimentation purposes only and there are inaccuracies with the temperature and mic sensors. Product will require a 5V USB power supply. A microUSB cable is supplied.
Features
Power supply: micro USB 5V
Real-time temperature(0-100℃) and humidity(%)
Light level: dusky, normal, bright
Air quality: bad, moderate, unhealthy
Sound level: quiet, normal, noisy.
WIFI Characteristics
• 802.11 b/g/n
• Built-in Tensilica L106 ultra-low power consumption 32-bit micro-MCU, dominant frequency support 80 MHz and 160 MHz, support RTOS
• Built-in TCP/IP protocol stack
• Built-in TR switch, balun, LNA, power amplifier and matching network
• Built-in PLL, voltage regulator and power supply management components, 802.11b mode +20 dBm output power
• A-MPDU&A-MSDU aggregation and 0.4μs guard interval
• WiFi @ 2.4 GHz, supports WPA / WPA2 safe mode
• Support cloud OTA upgrade
• Support STA/AP/STA + AP mode
• Standby power consumption is less than 1.0 mW (DTIM3)
User Guide
The user guide can be viewed here:
http://ewelink.coolkit.cc/?p=200
Schematic