Sonoff SV(safe voltage) is a low power supply Sonoff ESP8266 based development board which supports 5-24V power supply. The power separation circuit enables it to control AC or DC power for the connected device, but you need to do some soldering to use this function, please refer to the soldering instructions below. Sonoff SV has GPIO reserved to support secondary development. This version does not have 433MHz RF function.
Features
Support 5~24V power supply.
Support fast configure SSID and password through APP.
Support automatic connect to server, register and update status info.
Support tracking device status and timely remote control through APP.
Support setting single/repeat/countdown timing tasks.
Reserve GIPO for secondary development.
WIFI Characteristics
• 802.11 b / g / n
• Built-in Tensilica L106 ultra-low power consumption 32-bit micro-MCU, dominant frequency support 80 MHz and 160 MHz, support RTOS
• Built-in TCP / IP protocol stack
• Built-in TR switch, balun, LNA, power amplifier and matching network
• Built-in PLL, voltage regulator and power supply management components, 802.11b mode +20 dBm output power
• A-MPDU&A-MSDU aggregation and 0.4μs guard interval
• WiFi @ 2.4 GHz, supports WPA / WPA2 safe mode
• Support cloud OTA upgrade
• Support STA / AP / STA + AP mode
• UART, I2C, PWM, GPIO
• Deep sleep maintain current is 10 uA, shutdown current is less than 5 uA
• Wake-up, connect and transfer data packets in 2 ms
• Standby power consumption is less than 1.0 mW (DTIM3)
Soldering Instructions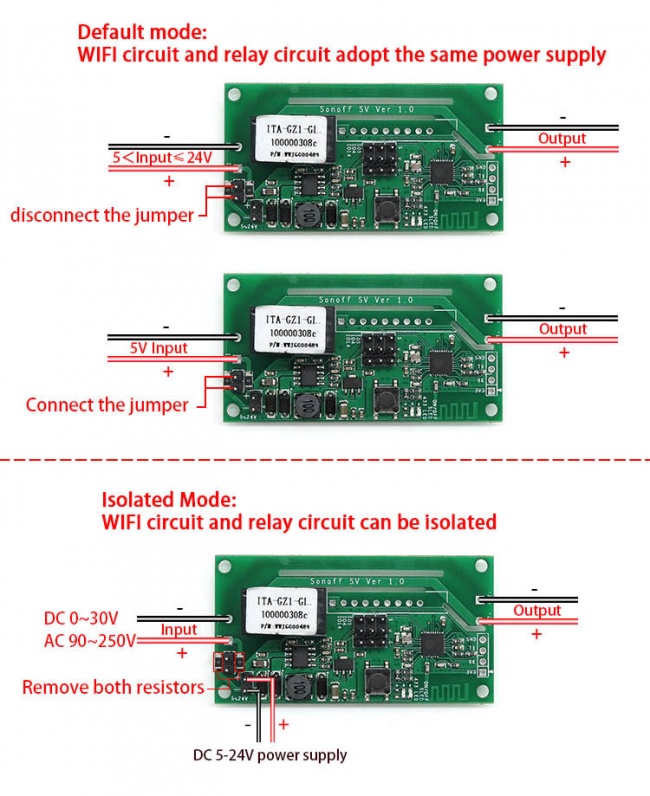 Pinout
Pin Pin Name Description
1 3V3 Chip power
2 TX Serial transmit port
3 RX Serial receiving port
4 GND GND
5 GPIO4 I/O
6 GPIO5 I/O
7 GPIO14 I/O
Dimensions
Schematic