A ball top arcade style 4/8 way joystick. This joystick uses 4 standard micro-switches to give a precise, hard wearing and positive tactile feel and allows for up to 8 directions to be sensed. The restrictor plate fitted to the bottom of the joystick helps protect the micro-switches from excessive force whilst providing full freedom of movement in both joystick X and Y directions. Should any of the micro-switches eventually need replacing they can be easily swapped out without the need of a screwdriver. A nylon (red) ball attached to the top of the joystick give the joystick a comfortable ergonomic feel and a solid 9mm polished metal shaft finishes of the classic arcade joystick look and feel.
For attaching the joystick to cabinet or control panel, the joystick has a square mounting plate measuring 95x60mm with 6 mounting holes for up to M4 screws/bolts. A lose dust ring at the base of the joystick helps cover the mounting hole and protect the mechanism below from lose dust or dirt.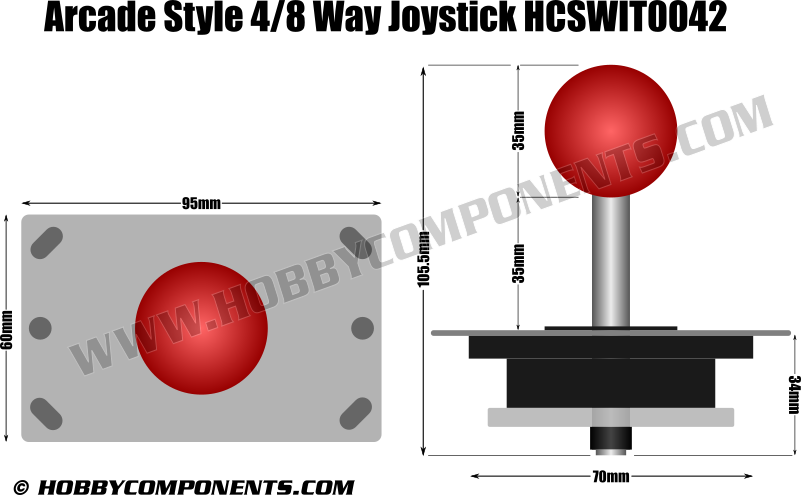 Specification:
Product code: HCSWIT0042
Joystick shaft (above mounting plate/exc ball): 35mm
Joystick shaft (above mounting plate/inc ball): 70mm
Joystich ball: 35mm
Shaft diameter: 9mm
Mounting plate: 95mm x 60mm x 1.5mm
Fixing hole size: 4.5mm
Depth of joystick (below mounting plate): 30mm (approx)
Number of micro-switches: 4
Micro-switch contact type: COM-NO
Disclaimer: Libraries, example code, and diagrams are provided as an additional free service by Hobby Components and are not sold as part of this product. We do no provide any guarantees or warranties as to their accuracy or fitness for purpose.

Descriptions and diagrams on this page are copyright Hobby Components Ltd and may not be reproduced without permission.