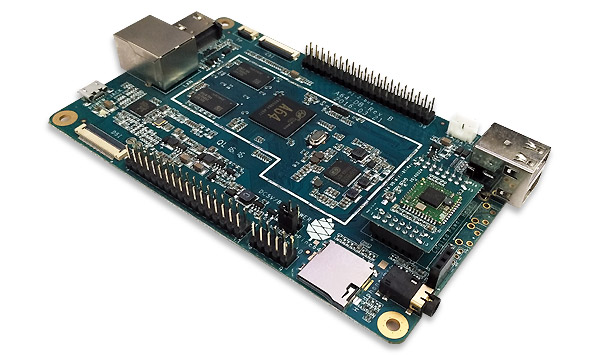 PINE A64 is Single Board Computer powered by Quad-Core ARM Cortex A53 64-Bit Processor. It provides PI-2 Bus, Euler Bus and many others peripheral devices interface for makers to integrate with sensors and devices. Various Operating System (OS) are made available by open source community such Mainline Kernel, Ubuntu, Debian, Android, Remix OS, Windows IoT and many more to come.
Board Features:
Video: HDMI 1.4a (Type A - full) PLEASE NOTE HDMI TO DVI ADAPTERS ARE NOT SUPPORTED
Audio: 3.5mm stereo earphone/microphone plug
Network: 10/100/1000Mbps Ethernet(Pine A64+ version), 10/100Mbps Ethernet(Pine A64 version)
WiFi: 802.11 b/g/n with Bluetooth 4.0 (optional)
Storage: microSD - bootable, support SDHC and SDXC, storage up to 256GB
USB: 2 USB2.0 Host port
Expansion Ports: DSI - Display Serial Interface, 4 lanes MiPi, up to 1080P
CSI - CMOS Camera Interface up to 5 mega pixel
TP - Touch Panel Port, SPI with interrupt
RTC - Real Time Clock Battery Connector
VBAT - Lithium Battery Connector with temperature sensor input
Wifi/BT Module Header - SDIO 3.0 and UART
2x20 pins "Pi2" GPIO Header
2x17 pins "Euler" GPIO Header
2x5 pins "EXP" Console Header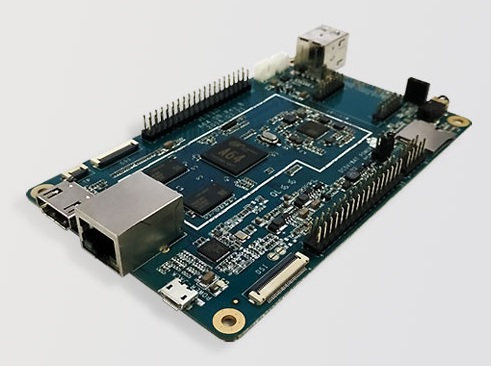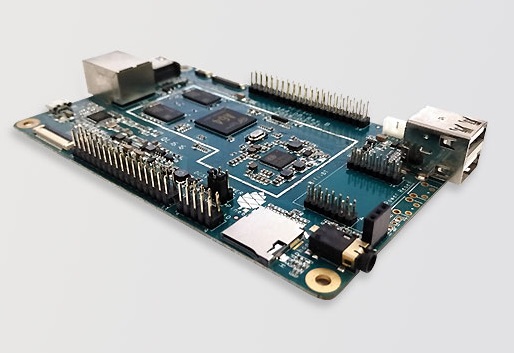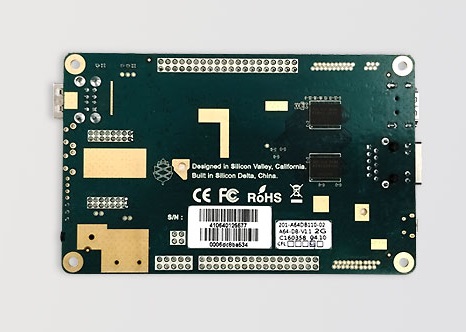 SoC and Memory Specification:
Based on Allwinner A64

CPU Architecture
Quad-core ARM Cortex-A53 Processor@1152Mhz
A power-efficient ARM v8 architecture
64 and 32bit execution states for scalable high performance
Support NEON Advanced SIMD (Single Instruction Multiple Data) instruction for acceleration of media and signal processing function
Support Large Physical Address Extensions(LPAE)
VFPv4 Floating Point Unit
32KB L1 Instruction cache and 32KB L1 Data cache
512KB L2 cache
GPU Architecture
ARM Mali400MP2 Dual-core GPU
Support OpenGL ES 2.0 and OpenVG 1.1 standard
System Memory
RAM Memory Variants: 1GB (HCPINE0001) and 2GB (HCPINE0002)
Storage Memory: Pine A64 boards do not have built-in Flash memory but use bootable microSD Cards or USB attached storage.
Recommended/required accessories (not supplied):
For your chosen operating system you will require a micro SD card with at least 8GB capacity and with fast random read write speeds.
To power the Pine64+ you will need a micro USB 5V power supply. We recommend a minimum of 2.5A capacity. Standard phone chargers or fast charges are not recommended.
If using with one of the available a GUI operating systems (non headless) -
A standard USB keyboard & mouse.
A HDMI TV or Monitor.
HDMI cable.
Ethernet connection or Wifi dongle/adapter. The official Pine WIFI 802.11BGN/Bluetooth 4.0 module is also available for purchase from our store. See item HCPINE0003
Recommended Resources:
Official Pine64 wiki:
http://wiki.pine64.org/index.php/Main_Page
Official Pine64 forum:
http://forum.pine64.org/
Recommended unofficial Pine64 forum:
https://www.pine64.pro/
Downloads:
Installation guides with pre-built images for various operating systems can be found on the official Pine64 website here:
http://wiki.pine64.org/index.php/Pine_A ... re_Release
Please ensure when downloading a image that you select one that matches your SD card.