The Wemos dual base (HCWEMO0015) is designed to allow a Wemos shield to be connected to a Wemos D1 board without having to use the normal stacking method. This is useful when you have multiple shields that are not suited for stacking together such as an OLED shield with sensor/relays shields, or where a lower profile is preferred. Supplied with the shield is a set of four 8 pin female headers.

Example application: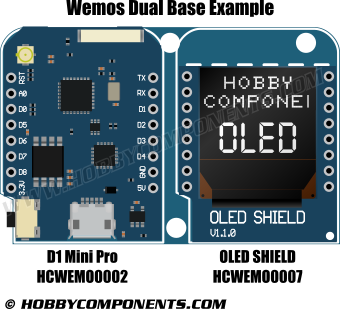 Disclaimer: Libraries, example code, and diagrams are provided as an additional free service by Hobby Components and are not sold as part of this product. We do not provide any guarantees or warranties as to their accuracy or fitness for purpose.

Descriptions and diagrams on this page are copyright Hobby Components Ltd and may not be reproduced without permission.