The WeMos lithium battery shield provides a means of powering your WeMos mini, or WeMos mini Pro (see item HCWEMO0002) from a single cell (3.7V) lithium battery. The shield contains a DC-DC converter to step-up the batteries 3.7V to 5V supplying your WeMos mini and shields with up to 1A of power. When the battery is depleted simply plug the shield into a USB power source using a mini USB cable and it will automatically recharge the battery. Two LEDs on the shield indicate when the battery is charging and when charging has completed.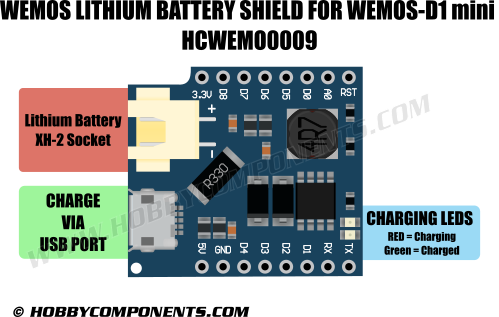 Specification
Charging Voltage: 10V MAX 5V Recommended
Charging Current: 1A
Lithium Battery Voltage: 3.3-4.2V
Boost Power Supply: 5V (Max 1A)
Ports:
XH2-2.54mm (Port 1): Connect to lithium battery (3.3-4.2V)
Micro USB: Charging Port (5V)
Green LED: Illuminates when charging is complete
Red LED: Illuminates when charging is in progress
J1: Sets the maximum charging current: 0.5A or 1A
Schematic:
Libraries, example code, and diagrams are provided as an additional free service by Hobby Components and are not sold as part of this product. We do no provide any guarantees or warranties as to their accuracy or fitness for purpose.

Descriptions and diagrams on this page are copyright Hobby Components Ltd and may not be reproduced without permission.