This power supply module is based on the AMS1117 3.3V regulator. It is capable of regulating a wide range of input voltage (4.0 to 12V) down to a fixed 3.3V output at up to 1A (Vin = 4.5V). Standard 0.1" header pins provide a means of connecting to its input and output terminals. These header pins have also been conveniently placed so that the module can be inserted face down into standard 0.1" pitch breadboard such as our MB 400 (HCPROT0011) & 830 point (HCPROT0025) breadboards. An on-board LED gives visual indication of when the module is powered.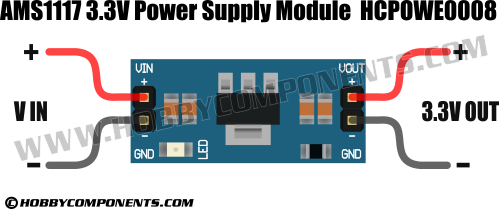 Specification:
Product code: HCPOWE0008
Output Voltage: 3.3V
Max output current: 1A @ 4.5V input
Max input voltage: 12V
Module size: 25.5mm x 11.5mm
Please note: Do not exceed absolute maximum input voltage (12.5V) or output current (see below). Exceeding maximum specifications can result in permanent damage to this module or any connected devices.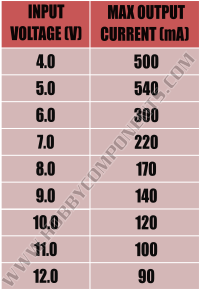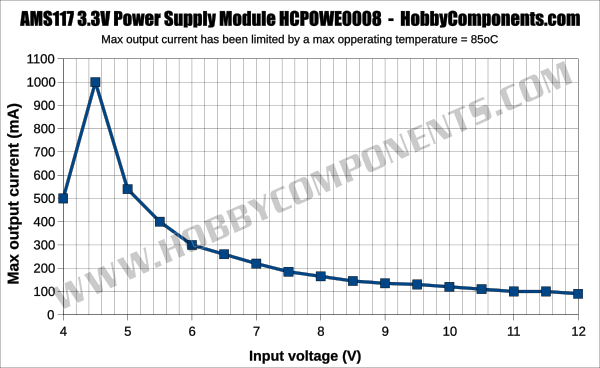 Notes: Maximum output current at 4V input voltage is limited by the regulators line/load regulation. Maximum output current at other input voltages is limited by maximum regulator package temperature of 85oC.
Libraries, example code, and diagrams are provided as an additional free service by Hobby Components and are not sold as part of this product. We do not provide any guarantees or warranties as to their accuracy or fitness for purpose.

Descriptions and diagrams on this page are copyright Hobby Components Ltd and may not be reproduced without permission.