---


The MAX471 module (HCSENS0041) is a complete, bidirectional, highside current-sense amplifier for portable PCs, telephones, and other systems where battery/DC power-line monitoring is critical. High-side power-line monitoring is especially useful in battery-powered systems, since it does not interfere with the ground paths of the battery chargers or monitors often found in "smart" batteries. The MAX471 has an internal 35mΩ current-sense resistor and measures battery currents up to ±3A. The module has a built-in 2K Ohm sens resitor giving the module a full sensor range of +/- 3A. An open-collector SIGN output indicates current-flow direction, so the user can monitor whether a battery is being charged or discharged. Operation is from 3V to 36V, and draws less than 100µA over temperature

The module is also supplied with optional 2 way screw terminal and 0.1" pitch header (requires soldering).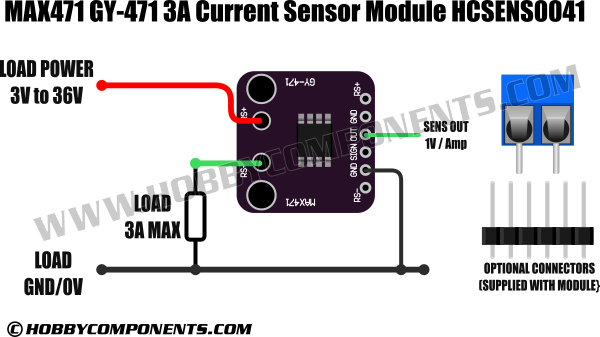 Specification:

Product code: HCSENS0041
Current sens max: +/- 3A
Current sens voltage: 3 to 36V
Sensor output: 1V / Amp
Dimensions: 20mm x 19.5mm


Pinout

Sensor
RS+.........Load positive supply (3 to 36V)
RS-..........Connect to load or charger

Interface:
RS+.........Alternative load positive supply (3 to 36V)
GND.........Connect to loads 0V/GND supply
OUT..........Current sensor output (1V / Amp, 3V max)
SIGN........Current flow direction. An open-collector logic output (low = current flow from RS+ to RS-).
GND.........Alternative GND (Connect to loads 0V/GND supply)
RS-...........Alternative load/charger connection.





Libraries, example code, and diagrams are provided as an additional free service by Hobby Components and are not sold as part of this product. We do no provide any guarantees or warranties as to their accuracy or fitness for purpose.

Descriptions and diagrams on this page are copyright Hobby Components Ltd and may not be reproduced without permission.